Joseph A. Haran: 1944-2021
---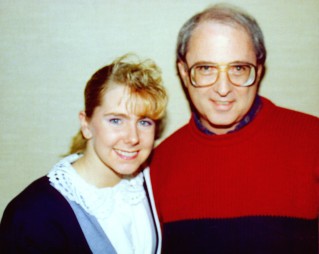 It is with great sadness that I must report the passing of Joe Haran, who was a casualty of the recent record-breaking temperatures experienced in the Pacific Northwest area. Although this article doesn't mention it, Joe was a leading figure in the original Tonya Harding Fan Club back in the 1990s, including serving as an editor of the club's magazine, The Skater:
The Last Days of Joe Haran
We have therefore created this special section of our web site to honor his memory and his work as a Tonyaphile.
Joe initially heard about Tonya in 1991 in the wake of the triple axel, and identified with her because of his own deprived upbringing. In December of 1992 he became aware of a proposal by Elaine Stamm, a retired charm school teacher, to form a fan club. And it was through this connection that we got to know him, with Joe sending us a large amount of Tonya-related material, including several issues of The Skater which you can read below. We have also since obtained several other issues that we hope to put on line when we get the time (even Joe didn't have a complete set):
Joe also sent us some photos of his time in the fan club, including some of a birthday party that Tonya put on for him. Click on the thumbnails for full-sized versions:
Some more of Joe's writing about Tonya, that he did for the Puppetland site (not sure about why column haran1.html is missing):
Report about a speech that Joe made to the Humanists of Greater Portland about Tonya in December 1997. Updated link to the article:
Bent media played a major role in Tonya Harding's fall
"She had no money, no connections and no pedigree," Haran said. "I could relate to her background myself. I had some idea of what it was like for her to be in a profession or social situation where she was looked down on because of her lack of pedigree. It broke my heart."

Haran said Tonya told of being stuffed into a restroom trash can at age 12 by fellow competitors who chanted, "Trash for the trash." Her coach eventually heard her crying and rescued her.

"She went out and won her first of 12 national championships," Haran said. "It was exemplary of her career."

"The corporations pick who they want as icons and then it's up to the USFSA to make sure they make it to the top. Tonya was too controversial and was never a candidate for sponsorships. She was `white trash' to them and they did what they could to stop her, and the media got on board."
As we promised last time, we have begun uploading some items that Joe Haran sent to us several years ago. The first batch covers material from before "The Incident":
The Haran Chronicles
In the early 2000's, Joe supplied us with a load of information from his time in the Fan Club, which was published in The Portlandian as a series of articles under the title of The Haran Chronicles:
For those of you unfamiliar with Joe, in addition to editing "The Skater" he also had a distinguished career in the print and broadcast media in the Portland area before ill-health regrettably forced his early retirement. Prior to this, he graduated from the University of Oregon School of Journalism in Eugene, Oregon, and served in Vietnam where he received several decorations for his military service. His journalism credits include positions as a staff reporter for "The Oregon Spectator" monthly newspaper in Oregon City; news director at KGAL-AM radio, Albany, OR; chief writer at "GrassRoots" monthly news-magazine, Salem, OR; news editor at "The Stayton Mail" weekly newspaper, Stayton, OR; announcer and reporter at KOIN-AM and KOIN-FM News Departments, Portland, OR; news presenter, producer and reporter for KEZI-TV News Department, Eugene, OR and producer and reporter for KOIN-TV News Department in Portland.
In addition he has also done freelance work for "PDXS" (a fortnightly newspaper in Portland), "The Oregon Spectator" monthly newspaper, Oregon City; CBS New York; "The Lake Oswego Review" weekly newspaper, Lake Oswego, OR and the weekly newspaper "The Portland Observer". His voluntary journalism work includes editing "Welcome Home", a monthly newsletter for the Steven F. Worley Chapter 392 of Vietnam Veterans of America Incorporated; reporter for "The ZooDoer" monthly newsletter, Metro Washington Park Zoo; special correspondent for "The Oregon Daily Emerald" newspaper, at the University of Oregon and sports editor of "The Bridge" weekly newspaper, Portland Community College.
(Part 2 - The marriage from Hell)
(Part 5 - Triple axels and double crosses)
(Part 7 - Tonya returns from Nationals)
(Part 9 - General Tonya odds & ends)
(Part 10 - Video killed the skating star)
(Part 11 - Tonya gets stuck with a Lemon)
(Part 12 - The media circus, part 1)
(Part 13 - The media circus, part 2)
Back to PortIce Home Page
---
© 2022 Portland Ice Skating Society.
Last updated: 12 April 2022